Energy Healer Energy Healing long-distance healing
Upcoming Event Dates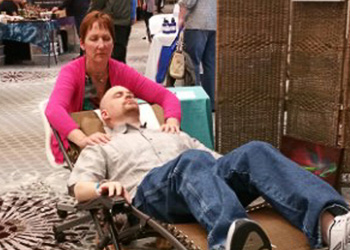 Thanks for your interest in my upcoming events. In addition to offering one-on-one healing, I know I am here to share messages of Empowerment, Healing and Ancient Wisdom. I reside in southern Maine, so most of my appearances to date have been in New England. I am definitely open to travel, however! If you would like to book me as a high-vibrational, spiritually healing speaker for your event, please call 207-216-0473. Moreover, if you have a talk-radio show that you host or enjoy listening to, please call me or share the contact details through my CONTACT form. Thank you for your interest and support!
October 22, 2017, ZuZu's 12th Holiday New Age Expo I will be offering hands-on sessions of 10-, 20-, 30-minutes or 1 hour. Energy-in-form Healing Artwork in cards, matted prints and prints on canvas ... wonderful, high frequency gifts for yourself and your loved ones!
10-minute sessions will focus on one or more base dupon higher guidance:
Deep Theta Brain-State Relaxation
Insights into life challenges, physical pain, self-limiting beliefs, feeling stuck, etc.
20-, 30-, or 60-minute sessions work more deeply and employ my Perspective Reboot® process.
One or more of the above, plus the following as guided.
Insights into your "stories", blocks, patterns with Higher Messages for escape route< from mental, emotional, spiritual, or physical dis-ease
DNA/Chakra Activation and/or Clearing
What you need to help you shfit!
10-minutes, $25; 20-minutes, $45; 30-minutes, $70; 1-hour, $130. Limited availability.
Please contact me in advance
if you'd like to reserve a specific time slot. 10 am to 5 pm.
I will also be offering my canvases, matted prints and Chakra balancing Energy-in-Form Artwork for sale ... something special to pick up the energy in your space or that of a loved one. Prices start at just $5, and my canvases will be offred at only $77 at this show. $5 admission to Zuzus. 10 am to 5 pm. Doubletree Hilton, 50 Ferncroft Road, Danvers, MA.
Kore Healing with Kristi On Demand Healing Audios ~ Foundation of Love; Creativity & Intimacy; Self Care & Personal Power; Healing Your Heart; Shouldering Responsibility with Ease & Grace; Words of Truth, Spoken with Love These Kore Healing SM with Kristi sessions were a huge success and are now available as a Kore Healing SM with Kristi On-Demand Healing Sessions for $31.50 to $49.50 each for one-time session. Review and purchase session here.
Archive still available ... July 8, 10 am Guest on "Expanding Awareness" with Victor Robert Venckus What if we were able to turn ourselves inside out to see ourselves and our lives from a new perspective? When we are able to identify the root of our dis-ease, we see choices which may have been hiding in plain sight. Helping others step into this Self Mastery is part of my gift. I'll be joining Victor on WZBC Newton Radio. We'll be talking about mind-body-spirit healing and my Perspective Reboot® offerings. You may listen live at 90.3 FM or on listen here at WZBC.org
"Breast Wellness & Nurturing Self" Kore HealingSM with Kristi Group Distance Session ~ date TBD This session will be conducted via telephone. Although there will be others on the session, all except me will be muted. I will be speaking to you as if I am only working with you. You stay in your space, relaxed and receptive; and I work from my home. $45 per person with options for audio in case you cannot make this time and option for permanent audio download for repeated, cumulative healing sessions. Contact me to join an upcoming group. More information on the Upcoming Group Sessions page ... email me if you'd like to participate.
~ ~ ~
YOUR EVENT?!? If you would like to speak with me about doing a group healing or delivering a non-religious but spiritually-rich talk at your event, please call 207 216 0473. Your call will be returned promptly if you leave a message.
Please visit my Radio & MP3 page to listen to and/or download MP3s of prior radio shows.
Group Healing Services are listed on this page; past event being offered as on-demand healing are here. Other events listed on HealingResonance4ME page on Facebook. Come by and LIKE me. You could also sign up for my e-news with the "NEW Opt-In Gift" link.
Thank you for your interest in Healing Resonance and exploration of ways to open yourself and your life to its fullest potential! I look forward to meeting you ~ Kristi