Integrative Medical Healer Energy Healer Portland Maine Distance Healing Medical Intuitive
Kristi Borst ...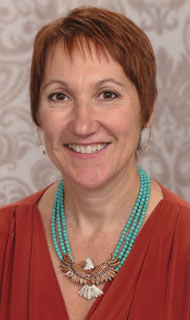 I have always been a very empathetic and caring person. That trait took on a whole new quality in 2011 when I had an awakening to the inter-connectivity ... what I call "Oneness" of ALL beings. My two-year spiritual journey of SELF awakening (which continues) led me back to knowing that there is more to life to living than eating/working/sleeping. If we rely on only what our five senses "tell us" we set ourselves up to miss the miracles of life.
Through my journey which took me both outward and inward, I found mySELF and my birth right ... my superpower, if you will. I have a connection to God/Source/The All That Is/Love that allows me to not only help others identify the root of their dis-ease and/or what separates them from joy, but also to release this lower frequency energy/trauma which frees the mind/body/spirit to heal. I love my "work" assisting others in connecting to their highest levels of light and love ... to heal and release their suffering.
The unseen threads of our living tapestry which connect us also allow me to help others release and heal physical pain, emotional heartbreak, anger, dis-ease, etc. This happens whether we are in session here in my healing space or separated by miles or continents. It even works when people listen to my recorded healings after the fact (see my Kore HealingSM offerings if my one-to-one work is financially beyond your means). I KNOW we are here to live in JOY, to get to the point in which we move beyond what has happened in our lives rather than be defined by our lives.
How does a woman go from graphic designer and marketing maven to facilitating miraculous healings in others? You may also wonder how I reconnected to what I call my "Healing Resonance" and this amazing ability to assist people profoundly with my Perspective Reboot® process. Read More
Wake up, Kristi!
My "wake up call" came as a result of a dramatic encounter with an American Bald Eagle. I was driving down I95, boxed in on sides and back by other cars. Up ahead, I saw an eagle flying. I watched as it landed in my travel lane, probably 50-75 yards ahead of my car. Knowing I couldn't stop or swerve, I projected "please fly up because I cannot avoid you and I do not want to harm you." Read More
Messages from the Unseen Realms
A series of seemingly unrelated events happened at the end of 2012/early 2013 that rocked my world and helped reconnect me to this "spiritual emotional physical mental healing ability". Read More
The Power Is ON
Quite literally, within a couple of weeks the miracles did start when I was away from home to do a Oneness Blessing circle and take two days of training! The power was on!
Knowing I was attuned as a Oneness Blessing Giver, my instructor invited me to come a day early and do a healing circle for some of her friends and clients. After the circle, one of the women she said she "felt better in her body than she had in years". Read More
Healing The Love of My Life
Three "miracles" in three days. So began my journey. At that time, my husband was suffering with an illness for which doctors and specialists offered no cure, only prednisone and a very limited diet seemed to manage his symptoms. Having shared what had happened while I was away I asked him "Supposedly I am a great healer. Will you let me try to help you?" He agreed and together, I believe we released the old programming and self-loathing that were causing his physical problems. He began getting better and was quickly drug-free and eating whatever he wanted. Read More
Accepted by My Tribe
We are surely ALL members of the Tribe. I know that finding others in 2011 who were aligned with my less religious and more spiritual view was a huge step in my finding my TRUE SELF. That community embraced all of my quirks, my child-like spontaneity, dry NE sense of humor, and my singing voice ... I found unconditional love and it was very healing and self-empowering. As I was loved, my gifts blossomed. I became ordained as a minister of The Universal Light in 2014 ... this protects my healing ministry and also allows me to perform non-denominational marriage ceremonies. I offer a pre-marital couple's session package to help those devoted to one another "release that which no longer serves you" as a couple!
Healing Beyond Space and Time
I love the insights I am provided into "seeing/knowing" the Higher Plan for myself and those who select me as their healing partner. Through seeing myself in more than one lifetime, I understand and share with you that the challenges we face are sometimes variations or polar opposites of our other journeys ... I see it as a kind of hide and seek we play with our I AM presence.
Read More
Here for You
I AM here to assist others in their own healing. Divine healing flows through me as me, helping others shine to their fullest. Trust me to provide the loving support to reconnect you to your center at which you will heal and release that which no longer serves you!
Awareness of your triggers and "stories" give you the power of choice; the power of change. Use the BOOK HERE link under the phone number to schedule your private intuitive energy healing session and start your treatment program. Lower-cost on-demand sessions are available through this "Kore Healing" link.
I am also available if you'd like to host a group healing session with your family and/or friends. This can be in-person (depending upon travel distance and expenses) or via a group conference call like I use in my Kore HealingSM with Kristi groups. My group process still allows for confidential work for each individual. Please contact me if you are interested in in-person group or distance group work.
My Healing Resonance energy-in-form Healing Artwork may be perfect for your home or office. I will even consider making a commissioned custom piece for you!
In 2017 I completed a program in holistic care and therapies, and obtained a certificate in Natural Holistic Remedies.
I continue to offer my graphic design and marketing assistance through my company Ad•Mark•Com / Advertising & Marketing Communications which I founded more than 30 years ago. For many years, this was the outlet for the intuitive abilities and need to assist others in profound ways held at bay within my being. If you are interested in exploring how intuitive marketing and/or an intuitive business reading might help move you into the flow of success, please contact me. Kristi
As a member of the Hands On Trade Association, I affirm their Code of Ethics. I AM a legally Ordained Minister. I AM certified in Physio/Spiritual Massage. I am also a member of the International Association of Behavioral Therapists.
*Disclaimer: Healing Resonance llc with Kristi Borst should never be used to solely diagnose, treat, cure or prevent any disease or psychological disorder and is not a substitute for licensed medical or psychological treatment. Kristi is not a doctor, therapist, or chiropractor. Kristi is a legally ordained Minister & Reiki Master, certified in physio/spiritual massage and with the ability to metaphysically help mind/body/spirit regain center and balance. The "healing resonance" and "energy work" she offers assists your body's Divine Healing Intelligence. Client testimonials conveyed verbally or on the web site do not constitute a warranty, guarantee or prediction of the outcome of an individual using Healing Resonance llc with Kristi Borst. "It is likely that in your session, things blocking natural healing and/or well being will rise to the surface for us to address together. This is a team effort and YOU are a key player!" Love, Kristi

Rev Kristi Borst, RM, RBT ... multi-dimensional master healing facilitator through Love and Light, offering in-person and distnace "laying of hands" to assist the physical, mental, emotional and energetic aspects of self ... past-present-future.
I know some people say that pain is inevitable but through the work I am doing, I am finding that pain may actually be optional. This profound work assists with healing to the energetic, physical, mental, emotional and etheric bodies ... profound healing, Divinely guided and personalized for you!

Reserve your session using the appropriate link on the header image, in the navigation, footer or on the Private Sessions page.